Adam Fenchurch Fireplace Surround, 54 Inch, Acacia Wood
Reviews

• Classic distressed appearance fireplace surround made with solid Acacia wood.
• Suitable for gas, electric and solid fuel fires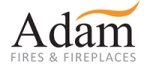 See Technical Details
See Frequently Asked Questions
FAQs
+

Surround

Q. What is the rebate size on this surround

A. The surround has a 1" ( 25mm ) rebate as standard.

Q. What kind of wood is used in this surround

A. This surround is manufactured using high quality solid Acacia wood.

Q. How can the surround be cleaned or polished

A. For general cleaning, use a damp cloth then buff up with a soft cloth. For more stubborn stains, use a soft soap solution but ensure that the surround is dried off afterwards.

Q. How can sticky marks be safely removed

A. For very sticky surfaces, use white spirit on a damp cloth. Do NOT rub vigorously or allow the white spirit to remain on the surround for any length of time. Wipe away any residue with a damp cloth and dry as normal.

Q. How should the surround be installed

A. The surround can be attached to the walls using metal brackets.
Mrs Jackie Kirby, Amersham says...

This fire surround is absolutely beautiful, stunning, I needed two fire surrounds for our double sided stove and I was cautious and only ordered the one for the dining room side, within in ten minutes of it being delivered I have ordered a second one for our lounge, the service was great, couldnt of been better, thank you I am going to have years of enjoyment from this.

Product
Product as Described
Communications
Delivery Charge
Delivery
RRP £296.99
Our Price:
£
276.50
You Save: £20.49

Out of stock
Back in stock within 12 days. Order now to reserve your item!
This item is professionally delivered to the room of your choice within 14 days.