Product Information
The Adam Abbey is a charming fireplace suite whose refined arch and straight lines have a neat, orderly quality that exudes a quiet dignity. Its stone effect finish gives it a firm, robust feel while the light, creamy colour will bring a brightness and vibrancy to any interior. Combined with the sophisticated, ambient glow of the Adam Helios electric fire, this fireplace suite simmers with character.
We know that a fireplace makes a home, and this means you want to make sure you get the perfect one for you. So whether you're going classic with our gorgeous marble fireplaces or keeping it modern with our stunning electric stove suites, we want to make it as easy as possible for you to achieve your dream look.
We make it really simple and straightforward, and have got a few really easy options for you to choose from:
1 - Pick Your Product
Our interest free credit is available on any order over £799.00 - and there's no limit to the number of items you can buy to make up that amount.
2 - Check Your Monthly Payments
Finance Options
Representative APR (fixed)
Deposit To Pay
Monthly Payments
Total Amount Payable

0

Months

0

%

0

0

0
3 - Get Your Dream Fireplace
Relax while you get the look you want at a manageable, monthly payment.
1 - Pick Your Product
Our classic credit is available on orders from just £299.00. This means there are loads of options so you're sure to find the perfect fireplace for you.
2 - Check Your Monthly Payments
Finance Options
Representative APR (fixed)
Deposit To Pay
Monthly Payments
Total Amount Payable

0

Months

0

%

0

0

0

0

Months

0

%

0

0

0

0

Months

0

%

0

0

0

0

Months

0

%

0

0

0
3 - Get Your Dream Fireplace
Relax while you get the look you want at a manageable, monthly payment.
Click here to see more information about our finance options, and to view our terms and conditions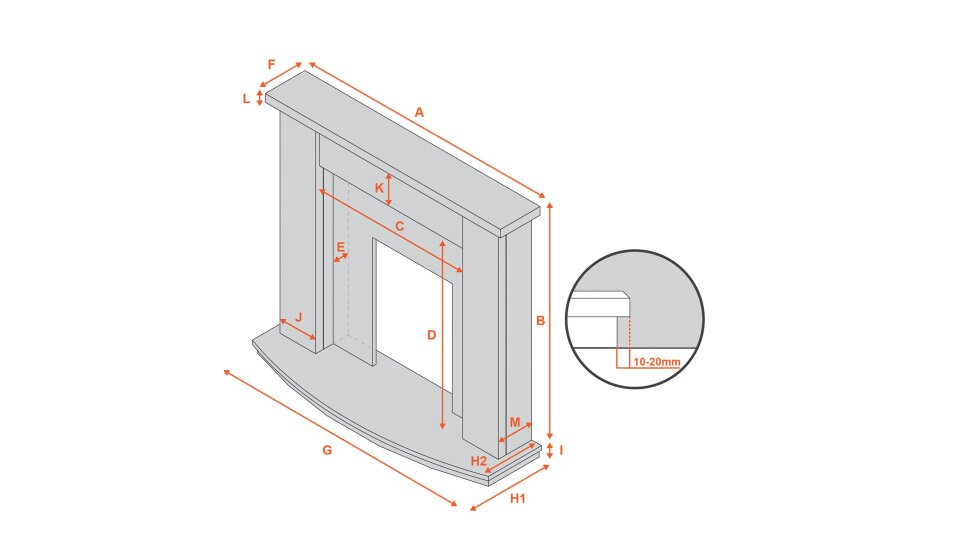 * Note: Model shown for illustrative purposes only, and may vary
Product Features
Surround Features:
Finish: Stone effect
Material: MDF wood
Recess Required: No
Flat Wall Fit: Yes
Assembly Required: Fully assembled
Manufacturer: Adam

Fire Features:
Fire Type: Inset fire
Finish: Brushed steel
Location of Heat Source: Under the canopy
Type of Heat: Fan
Heat Output: 1Kw - 2Kw
Location of Controls: Under the canopy
Control Type: Manual
Thermostat: Yes
Flame Effect: Ambient glow
Fuel Bed: Natural pebble effect
Glass Fronted: No
Spacer Included: Yes
Cable length: 1.5m
Installation: Plug in and go
Manufacturer: Adam
Manufacturer Warranty: 1 year

Please Note: The fire & surround are supplied in separate boxes

Detailed Dimensions
| | mm | inches |
| --- | --- | --- |
| A | 1200 | 47.24 |
| B | 1110 | 43.7 |
| C | 775 | 30.51 |
| D | 880 | 34.65 |
| F | 175 | 6.89 |
| G | 1215 | 47.83 |
| H | 370 | 14.57 |
| I | 60 | 2.36 |
| J | 165 | 6.5 |
| K | 195 | 7.68 |
| L | 35 | 1.38 |
| M | 115 | 4.53 |
Key Measurements
| | mm | inches |
| --- | --- | --- |
| Height: | 1100 | 43.31 |
| Width: | 1215 | 47.83 |
| Depth: | 380 | 14.96 |
| | kg | lb |
| Weight: | 35.00 | 77.16 |
Frequently Asked Questions
How can the fire be cleaned or polished?

For general cleaning, use a damp cloth and dry with a soft cloth, then buff up. Or use a suitable non abrasive metal polish ( such as "Peak" ) for the brass or silver parts. DO NOT USE abrasive polishes such as Brasso.

How can the surround be cleaned or polished?

For general cleaning, use a damp cloth with clean water and wipe down entire panel / surface to ensure no water marks when dry. For stubborn stains, use a solution of washing soda or "Lithofin Wexa" multi-purpose stone and tile cleaner.

How can sticky marks be safely removed?

For very sticky surfaces, use white spirit on a damp cloth. Do NOT rub vigorously or allow the white spirit to remain on the surround for any length of time. Wipe away any residue with a damp cloth and dry as normal.

Are the plugs easily accessible if plugged in behind the fire?

Fires must not be plugged in anywhere behind the surround or the fire. The plug must remain accessible after installation to allow the fire to be isolated in an emergency.

Can fake coals be put in a Helios Fire??

We advise customers only use the pebbles that are provided.

What type of bulb does my Adam Helios Electric Fire require??

The Adam Helios Electric Fire requires a 40w BC clear bulb.

Is the steel real?

No - the product uses a steel effect
Can't find the answer you're looking for?. Our experts are here to help!
Review Summary
Write a Review
Fireplace World wants to hear from you!
Miss Susan Mccarthy,
Cumbria
we got this fire suite as a focal point for our flat we are very pleased with this suite gives out plenty of heat a little bit noisy due to the fan but you get used to it,the service we got from fireplace world was great and delivery was great to well done fireplace world
Mrs Karen Calderbank,
Bolton Lancs
This fireplace is very good value for money, it looks far more expensive than it cost & gives out a reasonable amount of heat. The service from Fireplace World was great, good communication & fast FREE delivery. Also the deilvery man stayed while the frieplace was unpacked to check that it wasn`t damaged...1st class. I would reccommend this company & fireplace.
Mr Robert Carruthers,
Dumfriesshire
Ms Shirley Harris,
Werxham
Miss Emma Hillary,
County Durham
A brilliant service and product, love my new fireplace. I would recommend fireplaceworld.co.uk
Mrs Elizabeth Devlin,
Newcastle Upon Tyne
Excellent fast and efficient Service, Great Fireplace exactly as described, I am over the moon with it Would highly recommend Fireplace World to any potential buyers Thanks
Mrs Mary Gilchrist,
North Lanarkshire
gooddproduct well described free delivery good com. mary gilchrist
Cannot possibly rate you highly enough. The fire arrived within 10 of ordering and the delivery driver was very polite and very helpful when bringing it into the house. The fire itself is absolutely fantastic. It looks far more expensive than it actually was and really does look great in the living room. I am very happy with this purchase and have already recommended you and your fires to friends and family!
Ashley Goodinson,
Thornton Cleveleys
Very very happy with this fireplace! It looks fantastic, far better than we thought it would...... unbelievable value for money! The fire arrived on time, delivery staff were very pleasant. Excellent customer service, after contacting the store for advice on how best to install the fire, I felt confident that i could undertake the DIY myself. Highly recommended!!!
Karen Macdonald,
Aberdeen
Excellent fireplace sits against wall and just plugs in! Looks more expensive than it was really Good quality considering the price, if you are debating whether or not to order a fire online, look no further you will not regret it! The delivery man phoned an hour before they arrived on day of delivery and took out of box for me, very helpful delivery men. 10 out of 10, grab yourself a bargin!!
Received my fire place today. Excellent value for money. Looks alot more expensive. The delivery lads where excellent they even offered to install it for me, very polite and friendly. Would highly recommend fire place world. Fantastic customer service and will definitely be shopping here again
Hilary Williams,
Belton Norfolk
Tradition and contemporary style all in one with this excellent fireplace suite.Delivered quickly by two friendly delivery lads who unpacked and checked all was well within minutes having driven all the way from the North.Now it is up and running and has turned our living room into a cosy home. Recommend highly for excellent value and friendly and reliable service
Wanted a modern fire suite as a surprise for my mother whilst she was away. This suite is a must have for any type or style of home. Light and modern and a lovely feature to her room. The sellers are very impressive with easy to order site and quick response to my order. Delivery was fast and by two men who carried the item into the room. I had a text message the day before with a 2 hour time slot I am very very pleased. And I certainly know my mother will be on her return.
Very nice fireplace really sets off the room. Delivered by two very efficient men who unpacked and checked it was not damaged.Very pleased with service from fireplace world would certainly recommend.
Christine Jankowski,
Newbury
Love my new fire place. Very good value, fast and efficient delivery. Communication and updates much appreciated. Will recommend to anyone who is interest in a new one. Thank you
Kevin Dodd,
Stoke On Trent
perfect
Really well made and great looking fireplace, along with an excellent service from Fireplave world, always kept informed regarding delivery
Sandra Glover,
Portsmouth
Very happy with my new fireplace and at a great price. Thank you!
Denise Oyston,
Huddersfield
Love my new fireplace. Went to the showroom to look at Truro, but on viewing preferred Abbey. Purchased at 11:14, and fire was in situ in my home by 13:30 - handy being local. This is some of the best service I have ever had. I am a wheelchair user and everyone was so friendly and helpful. I am over the moon. Thank you so much.
Sandra And Denis Pate,
Irvine
We were delighted with our fireplace suite. Exactly what we were looking for. Excellent service, tracked delivery first class. Would highly recommend this company.
Mr T.m.flockhart,
Telford
Excellent fire suite, delivery men stayed until the unpacking was completed and all parts checked for damage. There were no defects at all. They even took the packing material away with them 5 STAR service in my book
Very good service and delivery,this is the second fire I have purchased and will buy again shortly
Good service from you , good delivery lads , stainless trim missing but a quick phone call to you and you sent one out straight away very good service again very please I would recommend you to any of my friends
It's a lovely fireplace and arrived as scheduled, the reason I gave 4 stars is because you can not change the bulb yourself, I am advised by the technical team that you have to have a qualified electrician as it's a special led tube available for £15 plus fitting.
Show More Reviews