Product Information
Brimming with character, the Adam Truro Fireplace Suite is a bright and lively, freestanding electric fireplace that will lighten your interior and lend it a little traditional charm. With its luscious, cream finish, soft curves and robust brushed steel Helios electric fire, every part of this fireplace breathes personality. Simply switch on the glowing pebble fire and enjoy a fireplace like no other.
We know that a fireplace makes a home, and this means you want to make sure you get the perfect one for you. So whether you're going classic with our gorgeous marble fireplaces or keeping it modern with our stunning electric stove suites, we want to make it as easy as possible for you to achieve your dream look.
We make it really simple and straightforward, and have got a few really easy options for you to choose from:
1 - Pick Your Product
Our interest free credit is available on any order over £799.00 - and there's no limit to the number of items you can buy to make up that amount.
2 - Check Your Monthly Payments
Finance Options
Representative APR (fixed)
Deposit To Pay
Monthly Payments
Total Amount Payable

0

Months

0

%

0

0

0
3 - Get Your Dream Fireplace
Relax while you get the look you want at a manageable, monthly payment.
1 - Pick Your Product
Our classic credit is available on orders from just £299.00. This means there are loads of options so you're sure to find the perfect fireplace for you.
2 - Check Your Monthly Payments
Finance Options
Representative APR (fixed)
Deposit To Pay
Monthly Payments
Total Amount Payable

0

Months

0

%

0

0

0

0

Months

0

%

0

0

0

0

Months

0

%

0

0

0

0

Months

0

%

0

0

0
3 - Get Your Dream Fireplace
Relax while you get the look you want at a manageable, monthly payment.
Click here to see more information about our finance options, and to view our terms and conditions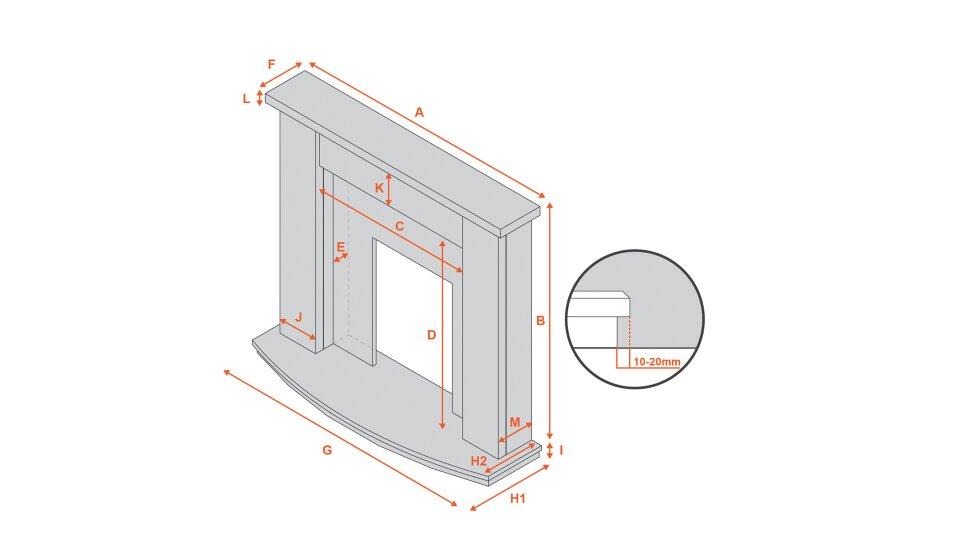 * Note: Model shown for illustrative purposes only, and may vary
Product Features
Surround: Cream finish
Fire: Brushed steel finish
Flame Effect: Ambient glow effect
Bed type: Pebble effect
Fuel Type: Electric fire
Control Type: Manual switches
Heat Control: Thermostat & safety cut-out system
Heat Output: 1kW and 2kW heat settings. Also includes an ambient glow effect only setting
Assembly: Pre Assembled
Fitting: The surround fits flat to the wall and can be secured using the brackets provided

Detailed Dimensions
| | mm | inches |
| --- | --- | --- |
| A | 1040 | 40.94 |
| B | 930 | 36.61 |
| C | 635 | 25 |
| D | 700 | 27.56 |
| F | 165 | 6.5 |
| G | 970 | 38.19 |
| H | 270 | 10.63 |
| I | 45 | 1.77 |
| J | 155 | 6.1 |
| K | 200 | 7.87 |
| L | 30 | 1.18 |
| M | 120 | 4.72 |
Key Measurements
| | mm | inches |
| --- | --- | --- |
| Height: | 970 | 38.19 |
| Width: | 1035 | 40.75 |
| Depth: | 270 | 10.63 |
| | kg | lb |
| Weight: | 30.00 | 66.14 |
Frequently Asked Questions
How can the fire be cleaned or polished?

For general cleaning, use a damp cloth and dry with a soft cloth, then buff up. Or use a suitable non abrasive metal polish ( such as "Peak" ) for the brass or silver parts. DO NOT USE abrasive polishes such as Brasso.

How can the surround be cleaned or polished?

For general cleaning, use a damp cloth then buff up with a soft cloth. For more stubborn stains, use a soft soap solution but ensure that the surround is dried off afterwards.

How can sticky marks be safely removed?

For very sticky surfaces, use white spirit on a damp cloth. Do NOT rub vigorously or allow the white spirit to remain on the surround for any length of time. Wipe away any residue with a damp cloth and dry as normal.

Can the Truro sit flush against the wall, even if I have skirting?

The Truro can sit flush against a wall, however there are no cut-outs in the rear of the surround to accommodate skirting boards, meaning they would have to be removed first.

Are the plugs easily accessible if plugged in behind the fire?

Fires must not be plugged in anywhere behind the surround or the fire. The plug must remain accessible after installation to allow the fire to be isolated in an emergency.

What colour is the light on the Helios?

The Helio's fire glows orange/yellow. The colour cannot be changed. 

Can fake coals be put in a Helios Fire??

We advise customers only use the pebbles that are provided.

Is the steel real?

No - the product uses a steel effect
Can't find the answer you're looking for?. Our experts are here to help!
Review Summary
Write a Review
Fireplace World wants to hear from you!
Miss Rebecca Maughen,
Southampton
Very pleased with this lovely fireplace. It has everything that I was looking for including easy to maintain and providing enough heat.
Mrs Karen Hill,
West Midlands
i am thoroughly delighted with my fireplace. the picture on the website was a very accurate reflection of the product and delivery guy was very helpful too
Mrs Linda Hotchkin,
Sevenoaks
Top marks all round, a trouble free purchase, product exactly as described, the delivery driver was very helpful. I can recommend fireplaceworld.co.uk.
Miss Tracy Wilson,
Middlesbrough
Very small fireplace nice but too small.
Miss Donna Atkinson,
Merseyside
ilove the fireplaces it look very nice and it is money well spend
Mrs Sue Lander,
Cambridgeshire
Very pleased with this fireplace. Looks much more expensive than it is. Easy to install and maintain, great to be able to have the pebbles glowing without the heat.Exactly what we were looking for.
Mrs Wendy Worthington,
Sheffield
great value for money. Good website and no problems with delivery, came exactly when they said it would
i bought this fireplace about 1 year and a half ago and i love it, this is my second fireplace from this website and am just going to order a new one as I am looking for one that hangs on the wall as I am moving house, am going to give my sister this one for her new house as its too good to just not use it, the communications where great between myself and the company, they delivered it when they said they would and am always happy to recommend, i'm going to miss this fireplace but i want to change and go for something abit different... thanks
Excellent value for money, looks great. Said "out of stock" when purchased but still delivered within 2 weeks, and on day of my choice.
This fireplace was out of stock when I ordered but was delivered as soon as stock arrived, very happy with the fire and easy set up, I would recommend this to anyone thinking of buying it.
So happy with the fire. Good people to deal with and the delivery firm were great. It looks great.
Very happy with my suite, unpacked in a few minutes and fitted in seconds, Fantastic price including delivery, no complaints, and delivery men very friendly too. Thank you!!
I love this fire suite. Easy to fit. Friendly staff.
Excellent service from start to finish. Ordered online to be delivered to my daughter as a present in Towcester. Well impressed that you improved on your estimated delivery of 14days and it actually arrived the day we were visiting :) - really pleased with quality and ease of fitting - a pleasure to deal with your company.
Kevin Nunn,
Sittingbourne
Great service great fire and surround delivered within a few days of ordering plugged in in seconds screwed to wall now looks like it has been in place for ever all great thank you fireplaceworld
Kevin Nunn,
Sittingbourne Kent
Great service great fire and surround fantastic company to deal with great service all round
Charles Crowther,
Manchester
Fireplace world web site was easy too navigate and all the information was there, the service and delivery was exceptional. Would recommend them to friends and family. Well done
great fire place fast delivery great service would recommend
Cpwilson@ntlworld.com,
Brighton
We are looking for a fire place and as far as we have seen we both like the look of it , but also the reviews are very helpfull im sure my husband and my self will be making a de ision soon , the price was brilliant and it looks abslutly right for us we will probably get back to you ,mrs c Wilson
Anonymous,
Greater Manchester
Really Nice modern fireplace looks lovely. Delivery excellent service .Customer service excellent I will recommend. Well done fireplace world not many companies you can say that about these days.
Brenda Clarkson ,
Kilmarnock
I am delighted with my new fireplace. Great quality product. Would highly recommend this company and would not hesitate in using them in the future.
Fire delivered quickly after order placed. Had this fitted recently its so lovely. Very modern looks expensive, nice size, made a big difference to my living room. Excellent purchase.
Love the Fireplace .arrived well packed .couldnt fault the delivery .kept in touch about date time how far away they were etc .would definitely recommend .great value for money
Mrs Sue Hope ,
Stalybridge
We love our new fireplace it's just what we were looking for , it looks perfect in our lounge . The service from fireplace world has been exceptional from start to finish would highly recommend this company .
Michael Streets,
Chesterfield
The whole process from ordering to delivery was great,we were kept informed of every stage of delivery by text right down the the actual time of delivery.The fireplace is exactly as shown on the photo and was well wrapped,it was simple to fix and looks great.
Mrs J Wright,
West Midlands
Excellent customer service. Great value for money.
Mrs Jennifer Howe,
Wallasey Wirral
Excellent ! Purchased fire 5 days ago and delivered today. Delivery fantastic, given time slot 10-40 to 12-40 and it arrived at 10-39 with very helpful drivers. Fire is great quality, easy to put into situ and looks good was just exactly what I was looking for.. Overall top marks all round and I would certainly recommend Fireplaceworld to friends ( in fact I already have !)
Mrs Kathryn Barnsley,
Cartmel Cumbria
Love the surround but disappointed with fire very cold looking the glow should have some red in it like a real fire and it is nosey when heater turned on
Paula Haynes,
Southampton
Great service . I purchased a fire suite which came very quickly on the day I specified. I built the surround but when I opened the fire It was not Like I thought it would be . I emailed asking if I could just swap the fire over to a different one rather than disassemble the surround and sending it all back. I received an email early following morning from carol saying it wouldn't be a problem and they could swap it over the next day. My new one is exactly what I was looking for and it looks great.
Show More Reviews