Product Information
- Black finish electric inset stove.
- Remote control with 7-day programmable timer.
- Realistic log fuel bed with LED flame effect only setting.
- Heat output of 1kW and 2kW.

With its black cast effect finish, the Adam Oslo is an electric inset stove with a difference. This takes the look of a traditionally styled stove and combines it with the electric inset style to create a unique finish to any surround. It has an air of elegance about it, which allows it to fit into both classically and contemporarily styled interiors. The real magic begins when you switch the fire on and are enveloped by the simmering glow of the realistic LED flame effect - perfect for long, cosy evenings. A modern iteration of a traditional design, use this stylish inset stove to update your home.
We know that a fireplace makes a home, and this means you want to make sure you get the perfect one for you. So whether you're going classic with our gorgeous marble fireplaces or keeping it modern with our stunning electric stove suites, we want to make it as easy as possible for you to achieve your dream look.
We make it really simple and straightforward, and have got a few really easy options for you to choose from:
1 - Pick Your Product
Our interest free credit is available on any order over £799.00 - and there's no limit to the number of items you can buy to make up that amount.
2 - Check Your Monthly Payments
Finance Options
Representative APR (fixed)
Deposit To Pay
Monthly Payments
Total Amount Payable

0

Months

0

%

0

0

0
3 - Get Your Dream Fireplace
Relax while you get the look you want at a manageable, monthly payment.
1 - Pick Your Product
Our classic credit is available on orders from just £299.00. This means there are loads of options so you're sure to find the perfect fireplace for you.
2 - Check Your Monthly Payments
Finance Options
Representative APR (fixed)
Deposit To Pay
Monthly Payments
Total Amount Payable

0

Months

0

%

0

0

0

0

Months

0

%

0

0

0

0

Months

0

%

0

0

0

0

Months

0

%

0

0

0
3 - Get Your Dream Fireplace
Relax while you get the look you want at a manageable, monthly payment.
Click here to see more information about our finance options, and to view our terms and conditions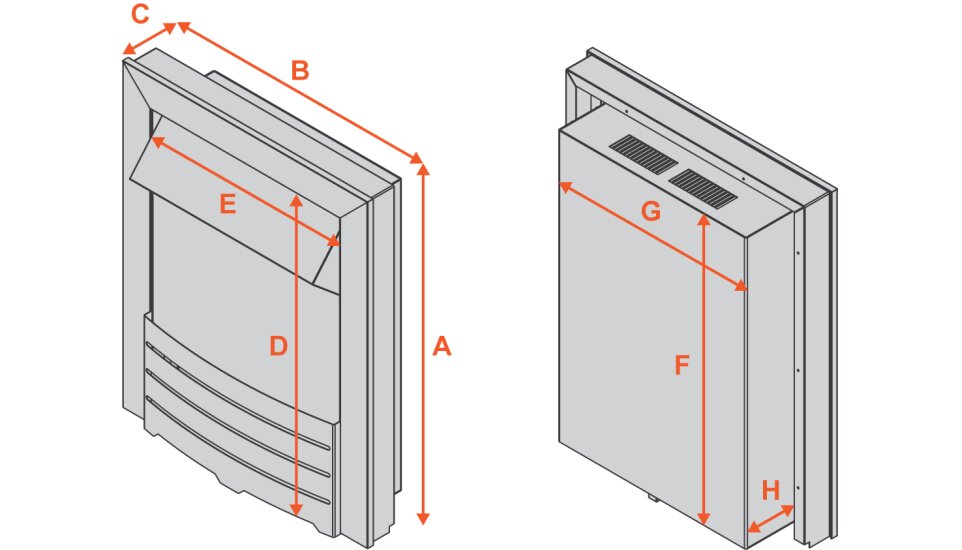 * Note: Model shown for illustrative purposes only, and may vary
Product Features
Fire Type: Inset electric stove
Fire Finish: Black
Location of Heat Source: Under the canopy
Type of Heat: Fan
Heat Output: 1Kw - 2Kw
Location of Controls: Under the canopy
Control Type: Remote control
Thermostat: Yes
Flame Effect: LED flame effect
Fuel Bed: Moulded log effect
Glass Fronted: Yes
Spacer Included: Yes
Flat Wall Fit: No
Recess Required: Yes
Cable length: 1.5m
Installation: Plug in and go
Manufacturer Warranty: 1 year
Manufacturer: Adam
Extra(s): Open window detection / 7-day programmable timer / Adaptive start capability

Detailed Dimensions
| | mm | inches |
| --- | --- | --- |
| A | 593 | 23.35 |
| B | 507 | 19.96 |
| C | 162 | 6.38 |
| F | 550 | 21.65 |
| G | 390 | 15.35 |
| H | 100 | 3.94 |
Downloads
Key Measurements
| | mm | inches |
| --- | --- | --- |
| Height: | 593 | 23.35 |
| Width: | 507 | 19.96 |
| Depth: | 162 | 6.38 |
| | kg | lb |
| Weight: | 12.50 | 27.56 |
Frequently Asked Questions
What are the inset dimensions??

H: 550 x W: 400 x D: 45 mm (D: 90 mm without spacer)

Can I replace the LED bulb in my Electric Fire??

The LED bulbs are currently an unservicable part and cannot be replaced.
Can't find the answer you're looking for?. Our experts are here to help!
Review Summary
Write a Review
Fireplace World wants to hear from you!
Really pleased with this fire....great service and fast delivery.
Absolutely delighted with the Oslo Stove and the help I was given in respect to determining if I had measured correctly! It's a perfect fit and I am know going to decorate the surround with tiles I have chosen to set it off.
S Hardacre,
Hemel Hempstead
Fantastic product really pleased. Great customer service from initial order to delivery,kept informed at every stage. Highly recommend this company.
Great product very pleased. Excellent customer service would highly recommend this company.
Excellent customer service from the order line, excellent delivery and excellent product. The installation instructions could be improved - saying remove 8 screws when there were only 6 was very confusing, but I managed to fit the fire myself, with very limited DIY experience. Looks fantastic.
Stephen Benison,
Trowbridge Wiltshire
The best value for the price. Looks realistic, well made, modern design and excellent delivery. Looked at lots of stove fires prior to ordering this one on line. Best product we have seen and fits neatly into fireplace opening.
Jan Daubney,
Hebden Bridge
WE HAD OUR FIRE, DELIVERED FROM FIREPLACE WORLD 6 MONTHS AGO,EXCELLENT SERVICE FROM COMPANY. THE FIRE LOOKS GOOD IN EVEN A TRADITIONAL COTTAGE INTERIOR, EASY TO FIT AND GOOD HEAT OUTPUT, WE LOVE IT AND SO DO VISITORS
Excellent value and quality. Easy to install in existing opening and looks fab. Received regular updates regarding delivery dates. Great service, highly recommended
L.taylor ,
Gloucestershire
We chose this fire to go in our lounge as we have re furnished and its very plain &simple design suited our look.It was hard to know what to expect buying on line,we had to wait a while as it was out of stock due to it being a new fire and already popular.It arrived as promised and we are over the moon it looks fabulous peopld keep asking if its a real wood burner!We love the flame it is one of the best not too flickery.Definitely recommend.
Ms Diane Barwell,
Midsomer Norton
I'm over the moon with my fire,my electrician fitted it today and it looks fantastic. It fits into my fireplace exactly right and looks really neat,I can't wait to use it. Thoroughly recommend your company.
Very pleased with this fire, the first that came must have got damaged in transit as it was making an odd sound but it was replaced within a week and 2nd one is fine and customer service was very good.
Sheridan Braddle,
Uckfield
Wanted a fie which did not look like a TV with flames! The Oslo fire looks very traditional and realistic and we are very pleased the overall look and heat output. Delivery information was very informative and precise. Ordered fire after reading reviews, so pleased that they were accurate and true about the product.
Great looking fire, updated the marble surround & with help and assurance from customer service re fitting buying was made easy. Thank you.
Virginia Kellond,
United Kingdom
Really good fire but not too keen on the handle, just personal preference.
Wonderful Stove. Really pleased to have found this particular item. Looks fantastic and fitted perfectly into an existing surround to replace an old and noisier traditional electric fire. Very efficient and easy to operate. Fast delivery and excellent service with clear website.
Show More Reviews