Product Information
The Adam Southwold is an attractive and versatile fireplace suite whose unfinished oak surround and smooth, cream back panel and hearth complement the sleek, steel finish and ambient glow of the Adam Helios electric fire. With the unfinished oak being suitable for painting, staining and lacquering, the Southwold is highly customisable and can be suited to any interior style.
We know that a fireplace makes a home, and this means you want to make sure you get the perfect one for you. So whether you're going classic with our gorgeous marble fireplaces or keeping it modern with our stunning electric stove suites, we want to make it as easy as possible for you to achieve your dream look.
We make it really simple and straightforward, and have got a few really easy options for you to choose from:
1 - Pick Your Product
Our interest free credit is available on any order over £799.00 - and there's no limit to the number of items you can buy to make up that amount.
2 - Check Your Monthly Payments
Finance Options
Representative APR (fixed)
Deposit To Pay
Monthly Payments
Total Amount Payable

0

Months

0

%

0

0

0
3 - Get Your Dream Fireplace
Relax while you get the look you want at a manageable, monthly payment.
1 - Pick Your Product
Our classic credit is available on orders from just £299.00. This means there are loads of options so you're sure to find the perfect fireplace for you.
2 - Check Your Monthly Payments
Finance Options
Representative APR (fixed)
Deposit To Pay
Monthly Payments
Total Amount Payable

0

Months

0

%

0

0

0

0

Months

0

%

0

0

0

0

Months

0

%

0

0

0

0

Months

0

%

0

0

0
3 - Get Your Dream Fireplace
Relax while you get the look you want at a manageable, monthly payment.
Click here to see more information about our finance options, and to view our terms and conditions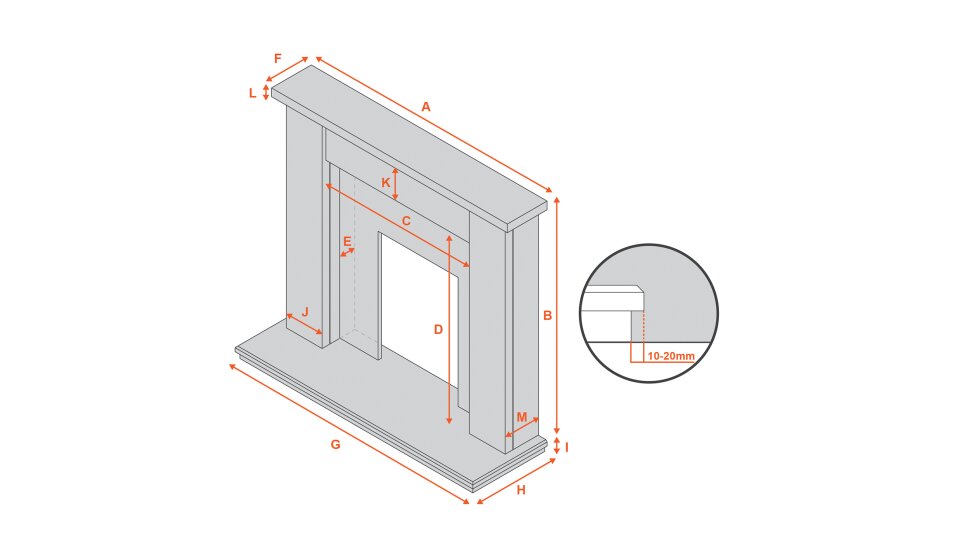 * Note: Model shown for illustrative purposes only, and may vary
Product Features
Surround: Unfinished oak
Back Panel and Hearth: Cream
Fire: Brushed steel
Flame Effect: Ambient glow effect
Bed type: Pebble effect
Fuel Type: Electric fire
Control Type: Manual switches
Heat Control: Thermostat & safety cut-out system
Heat Output: 1kW and 2kW heat settings. Also includes an ambient glow effect only setting
Assembly: Part assembled
Fitting: This suite fits flat against the wall and can be secured using the brackets provided

Detailed Dimensions
| | mm | inches |
| --- | --- | --- |
| A | 1100 | 43.31 |
| B | 970 | 38.19 |
| C | 755 | 29.72 |
| D | 775 | 30.51 |
| F | 150 | 5.91 |
| G | 1100 | 43.31 |
| H | 300 | 11.81 |
| I | 55 | 2.17 |
| J | 125 | 4.92 |
| K | 175 | 6.89 |
| L | 25 | 0.98 |
| M | 115 | 4.53 |
Key Measurements
| | mm | inches |
| --- | --- | --- |
| Height: | 1025 | 40.35 |
| Width: | 1100 | 43.31 |
| Depth: | 300 | 11.81 |
| | kg | lb |
| Weight: | 28.30 | 62.39 |
Frequently Asked Questions
How do I clean the fire?

You can use a damp cloth to wipe clean, dry with a soft cloth and then buff for a smear free finish. You can also use a suitable stainless steel cleaner purchased from well known hardware stores and most large supermarkets.

Does the Helios fire fit flush against the wall with a spacer?

No, they are not designed to.

Are the plugs easily accessible if plugged in behind the fire?

Fires must not be plugged in anywhere behind the surround or the fire. The plug must remain accessible after installation to allow the fire to be isolated in an emergency.

How long is the fire's power lead and what colour is it?

All of our inset fires are fitted with a power cord which has a nominal length of 1.7m. They are black.

What size are the screws that are used to fix the fire into the surround and where can I buy them?

The screws we use are ½ inch No.6 pan heads, and should be available at any good DIY store.

What colour is the light on the Helios?

The Helio's fire glows orange/yellow. The colour cannot be changed. 

Can fake coals be put in a Helios Fire??

We advise customers only use the pebbles that are provided.

What are your loose pebbles made of??

They are made of Gypsum.

Where are the switches located??

The switches are located underneath the canopy (hood). You will find three switches: x1 to operate the flame effect and x2 to operate the heat output as well as the thermostat control.

What is the fire made of??

The fire is made from steel.

Can I replace the LED bulb in my Electric Fire??

The LED bulbs are currently an unservicable part and cannot be replaced.

Where are the other pieces of this back panel?

When opening the boxed product it may seem it is missing the back panel. It is highly likely that those items are included but are in 3 pieces underneath the hearth.

Can I have a plug socket behind the fireplace ?

Our suites are not designed to have a plug socket directly behind as they sit flush to the wall. We would recommend a socket near to the fireplace.

What is this surround manufactured from? ?

The fireplace is made of MDF wood, the oak version is a veneer.
Can't find the answer you're looking for?. Our experts are here to help!
Review Summary
Write a Review
Fireplace World wants to hear from you!
Excellent service from ordering, delivery and on line customer service. Next day delivery, easy assembly and installation. Will certainly recommend this firm to anyone who wants good quality and service at a very competitive price. Firms like this sadly are few and far between these days.
Absolutely delighted with the suite, just as advertised. Delivery (lovely helpful smiley delivery man). Communication excellent. Would recommend to anyone.
Good company and super quick delivery, just fitted this fire and it looks good, the back panel and hearth are not a marble type material it's mdf just incase anyone thinks they are, I coated the surround with Osmo polyx- oil and it really shows the grain and darkens the veneer, it looks superb
Tim Pickering,
Malton, North Yorks.
Ordered midnight Monday,delivered Wednesday. To be honest I had reservations at buying a full suite for £169 (get what you pay for and all that).. Two hours to install from start to finish, this included four coats of wax as the fire was a bit lighter than I expected, fortunately it came untreated so the wax did the job perfectly! It's not top end, but it's by no means bottom either! Value for money???? .....All day long, and an excellent product that looks more than £169, no hassle service from fireplaceworld.co.uk Well done!
S Harford,
Bradford On Avon
absolutely love my fire suite, its perfect xx
Received the suite the day after ordered and unfortunately the surround was damaged.Phoned to explain damage and replacement was received the following day.What excellent service!! Very pleased with suite and looks far more expensive. Would highly recommend the product and company.
Excellent communication before delivery via email. They kept their word concerning the delivery which was the next working day. The fire suite looks excellent and is excellent. Installation manual is good as the instructions given are clear and straightforward to follow. I will recommend fireplaceworld.co.uk to you. Thank you
Ordered the fireplace suite on Wednesday night and was delivered Friday morning. The fireplace suite exceeded our expectations, such good quality for such a low price. The wood is unfinished and colour was a lot lighter than expected. But with a bit of medium oak varnish, it looks incredible. Really defines the grain of the wood. The product was also really easy to assemble. Fantastic customer service and extremely prompt delivery. Would highly recommend!
Extremely happy with my suite. It really makes the room look more cosy and adds a much needed focal point. Very easy to put together with clear instructions, in total it took me about an hour and a half. I wouldn't hesitate to recommend this company and the customer service is excellent.
Elizabeth Efreme,
Billericay
Fantastic customer services and really nice fireplace.My husband assures me it was easily put together and it looks great !
Cynthia Stewart,
Girvan Scotland
from ordering to getting it delivered, then putting it together was so easy, I LOVE my suite, thanks!
Show More Reviews